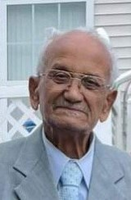 Armando Afanador
Armando Afanador 88, of Kissimmee, FL went to be with Lord on September 6, 2021, surrounded by family. Armando was born on April 14, 1933 in Utuado, Puerto Rico to Francisca DeJesus and Daniel Afanador.
He came to the states in 1948 and continued his travels to Vineland in the 50's. Armando was loved by many and respected by all. He was always willing to lend a helping hand to anyone he came in contact with.
Armando worked at a clothing factory as a finish pressor before following his passion of being a self contractor.
Armando devoted his life to his wife of 58 years.
He is predeceased by his parents; his son, Walter and sisters, Lydia and Matilde.
Armando is survived by his wife, Dalila; sons, Francis (Evelyn), Armando Luis (Yahaira), Herminio and Luis Daniel Afanador; grandchildren, Francis Jr, Luis Daniel Jr, Kristina (Jeffery) Colaneri, Christopher, Kristen, Amanda, Matthew, Christian Afanador, Sabrina (David) Alvarado; great grandchildren, Jealeyni Colaneri, Aubrey Davis, Jahsi Colaneri; sisters, Rosa Adalina, Minga, Lucy, Margarita, Iraida, Cynthia, Catherine, Annette, and brother, Heriberto; many nieces, nephews, and cousins. Along with family members, Micheal and Manny Pumarejo and Ozzie Reyes, Rosalie and Elijah Arce, Marisol and Destiny Rodriguez and Yaritza Sommer.
Family and friends will be received on Wednesday, September 15, 2021 from 10:30am to 11:45am with a funeral liturgy at 12pm at Christ the Good Shepherd Parish, Sacred Heart Church, 1010 E. Landis Ave., Vineland. Burial will follow in Sacred Heart Cemetery, Vineland. Arrangements are by DeMarco-Luisi Funeral Home, 2755 S. Lincoln Ave., Vineland.