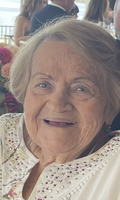 Ruth Milich
Ruth Milich died unexpectedly surrounded by her family on September 18, 2021 at Inspira Medical Center in Vineland, NJ at the age of 86.
She is survived by her children Marcia DePalma, Herb (Erika), Mayer and Jack (Karla); brother Adam Wolkowicz (Sasha), grandchildren: Michael DePalma (Jen), Monica Macho (Kevin); Jarred Milich (Brittany), Lindsey Sohl (Brandon), Kaela and Vivien Milich; and Alana and Carmel Milich, along with eight great grandchildren.
She is predeceased by her parents, Izak Bekier (Chana) and Felicja Wolkowicz (Leon); sister, Hanna Bekier and grandson, Mark DePalma.
Ruth was born in 1935 in Wiskitki, Poland and immigrated to the United States after surviving the WWII holocaust and relocating to Germany prior to her departure to the U.S in 1949. She attended high school in Vineland. NJ. She was a devoted mother, grandmother and great grandmother.
A graveside service will be held at 2:00 p.m. on Monday, Sept. 20th at Alliance Cemetery, 970 Gershal Ave., Pittsgrove Township (Norma) NJ (https://alliance.cemsites.com). All are welcome to attend and celebrate Ruth's life.
In lieu of flowers, please send donations to The Mark DePalma Memorial Scholarship Fund in care of Marcia DePalma, 2540 Venezia Ave., Vineland, NJ 08361. Arrangements are by DeMarco-Luisi Funeral Home 2755 S. Lincoln Ave., Vineland. Condolences can be sent to www.dlfuneral.com