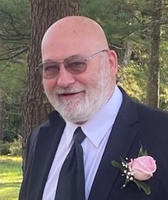 Rocco Trapani Jr.
Rocco Trapani, Jr of Vineland, NJ passed away unexpectedly in his home on October 4, 2021 at the age of 66.
Rocco was born in Vineland to the late Rocco Trapani, Sr. and Dorothy Trapani. Rocco worked as a truck driver for most of his profession and recently retired from his extensive career
of over 40 years. Rocco also was an exempt member of the Landisville Volunteer Fire Company and was a member of both the Vineland Recreation Club and North Italy Beneficial Association. However, Rocco's greatest undertaking and achievement was raising his five rambunctious boys into successful, independent men who will greatly miss their father.
Rocco enjoyed making wine, fishing, and riding his Harley. He spent countless hours on his CB radio where he made many life-long friends. Rocco also recently had the opportunity to spend more time fishing in his retirement with his long-time friend, Pat Nocito.
Rocco is survived by his mother, Dorothy Trapani; sister Doreen Trapani; brother Tom Trapani; sons: Rocco Trapani III and Michelle Trapani, Anthony Trapani, Angelo and Lauryn Trapani, Dominic Trapani, and Pat Trapani; and many aunts, uncles, and cousins. Rocco was predeceased by his father, Rocco Trapani, Sr. and sister Roxanne Trapani.
Relatives and friends will be received on Saturday, October 9, 2021 from 2pm until 4pm at DeMarco-Luisi Funeral Home, 2755 S. Lincoln Ave., Vineland. Interment will be held privately and at the convenience of the family.
Due to COVID-19 restrictions, everyone must wear a mask and social distance.