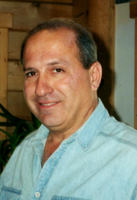 Charles V. "Chuck" Mevoli Sr.
Charles "Chuck" Mevoli was born on December 11, 1951. He was lovingly placed into the arms of the LORD by his beloved wife, Erica, on October 9, 2021. He was 69. He graduated from Girard College in 1969, graduating 2nd in his class. He became a creative and proficient Master-Builder and excelled in everything he put his hand to.
Chuck was a godly man; he loved the LORD with all of his heart and devoted his life to bringing glory to God with all the talents that he was gifted with. There was nothing Chuck enjoyed more than spending time with his family and watching the Eagles during football season. He found great joy and purpose in building, playing the keyboard, taking care of his collies, his horses and establishing The Indian Trail Farm with his partner in life, Erica. He generously shared his gifts with others and left an indelible mark on everyone who knew him.
He was a long-time board member at Calvary Chapel in Vineland, a valued member of the congregation, a member of the worship team, choir and drama team for many years. He was an important component of the ministry in many ways and will be greatly missed by all. Chuck is predeceased by his parents, Dominic and Lois Mevoli; his brothers, Dominic Jr and James.
He is survived by his beloved wife of 33 years, Erica June (Fifer) Mevoli; his children, Chaz (Kelly), April (Craig) and Ryan (Stacey) Tara; 8 grandchildren, 4 great grandchildren; his sisters, Julie (Mickey) and Luanne (John).
Family and friends will be received on Saturday, October 23, 2021 from 10am to 11am, followed by a memorial service to celebrate Chuck's life at 11am at Calvary Chapel of Vineland, 4630 Mays Landing Rd, Vineland, NJ 08361. Burial will be private. In lieu of flowers, donations may be made to Calvary Chapel. Arrangements are by DeMarco-Luisi Funeral Home 2755 S. Lincoln Ave., Vineland