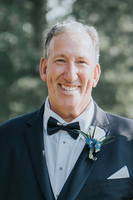 James M. Baals
James Michael "Jim" Baals, 57, of Minotola, New Jersey passed away on October 16, 2021 in Mullica Hill.
Jim was born in Camden, New Jersey to Adam and Terry Baals on February 25, 1964. He graduated from West Deptford High School in 1982. He then went on to work at Woodbury Exterminating and Southern Pest Control. He also owned LaMar Pest Control based out of Vineland. For the last 23 years he worked for the Buena Borough MUA.
Jim was an avid sports fan; he enjoyed watching Eagles games and eating hot wings (the hotter the better). He also enjoyed coaching his daughters' basketball and volleyball sports teams at Notre Dame Regional.
Jim loved to tell stories. He would find a way to talk to anyone and was everyone's comic relief. He always smiled. He was a social butterfly that relished in entertaining people, stirring the pot, "and you know, the thing". He enjoyed doing yard work and listening to music. Music was always part of his life, but even more so when his daughters danced at their recitals. He was the embodiment of a "dance dad'; he attended every recital and enjoyed driving his daughters to their practices. He enjoyed taking his family to concerts too.
Jim was also a cancer survivor. He would attend various Relay for Life events and Leukemia and Lymphoma Society Light the Night Walks and tell everyone his story.
Jim's favorite pastime was spending time with his family, whether that was sitting around the firepit, touring light shows during Christmas time, going to Disney on Ice, sitting in his chair on the beach, or watching people walk by on the boardwalk. He also loved eating peanut butter and jelly sandwiches and enjoyed taking naps in his recliner.
Jim shared all of his love and happiness with everyone he met and the world is a better place to have had him in it. His life revolved around his family, and he will not be forgotten. We love you.
Jim is survived by his wife of 34 wonderful years, Debra Baals (Harker) of Minotola; his children, Shannon Pagano (husband Sam), Courtney Schuck (husband Stefan), and Jessica Baals; his grandson "Pop-Pop's Little Man", Maxwell Pagano; his siblings, Terry (Sis) Schmidt and Joseph (Joe) Baals (wife Patty); his in laws, William and Jayne Harker; brothers-in-law, Jeff Harker (wife Dawn) and Brian Harker (wife Jody) and many other family members and friends.
He was preceded in death by his parents, Adam and Terry Baals.
Family and friends will be received on Saturday, October 23, 2021 from 12pm to 3pm at DeMarco-Luisi Funeral Home 2755 S. Lincoln Ave., Vineland. Please wear red in honor of the Leukemia and Lymphoma Society. Please also wear masks and socially distance. In lieu of flowers, please consider donating to the Minniti Center. Donations can be made by check only, payable to the Minniti Center c/o Linda. 174 Democrat Rd, Mickleton, NJ 08056.