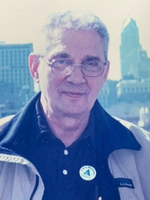 Anthony V. Ventello
Anthony Vito Ventello, a long-time resident of Cherry Hill, NJ passed away peacefully at home on Wednesday, October 20, 2021. He was 92. Son of the late Anthony Sr. and Filomena (Cardelia) Ventello, he was born in Trenton, NJ on September 10, 1929. Anthony spent many years of dedicated service in three different branches of the US military. He served in the US Navy, the US Army, and the US Merchant Marines.
On April 6, 1953, Anthony married Angela Coccia at St. Joachim Catholic Church in Trenton, NJ. Affectionately remembered as "Pop-Pop" by his grandchildren and the "Big-Guy" by many other family members, Anthony is survived by his wife, Angela. Anthony and Angela were married for 68 years. He is also survived by his loving family, including his sister Anna Conte; his daughter, Paula D'Arcangelo and her husband Bob; his son, Anthony and his wife Trudy; daughter Carolyn Seaton and her husband Jim; and son Gregg and his wife Jackie Stafford. Anthony is survived by six grandchildren, Christine Lavorato and her husband Frank, Martine Ventello, Anthony Ventello and his wife Kristine, Nicholas Seaton and his wife Jennie, and Giovanni and Giulia Ventello. Anthony is also survived by two great grandchildren, Frankie and Dorothy Lavorato; as well as many other loving relatives and friends. Anthony was predeceased by two older sisters, Rosemarie Martin, and Ernestine Innes.
Anthony's natural mechanical ability led to a civilian career working for 37 years in the Department of Engineering at the University of Pennsylvania. He was generous in sharing his talents with his family and friends, always lending a helping hand with house repair, and he was especially proud of his work restoring antique automobiles. Above all else, it is Anthony's boundless optimism that will be missed the most.
A private service will be held at the family's request. In lieu of flowers, donations can be made to a charity of one's choice in memory of Anthony V. Ventello.