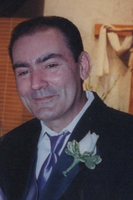 Eugene Curtis
Eugene Curtis, 71 of Vineland, passed away at home on Sunday, October 31, 2021.
Eugene worked for Bally's Atlantic City Hotel and Casino as an electrician for 35 years. In his spare time, he enjoyed watching westerns and taking care of his house and garden.
He was predeceased by his wife, Rosemary Merlino Curtis; his parents, Peter and Mary Curtis; and his sister, Marilyn Phillips. He is survived by his daughter, Cynthia (Curtis) Doumenis and husband John; sons Eugene Curtis, Jr., and Edward Curtis; two stepchildren, Michael Curtis and wife Alison, and Giovanna Capizola and husband John; his granddaughters, Alyssa Curtis, and Alysha Doumenis; and his siblings, Annette Caregnato and husband Bob, Peter Curtis, and Francis Curtis and wife Melissa.
Relatives and friends are invited to a visitation on Friday, November 5, 2021, from 10am until 11am at DeMarco-Luisi Funeral Home, 2755 S. Lincoln Avenue, Vineland. Entombment will follow in Sacred Heart Cemetery, Vineland. Memories, thoughts, and prayers may be extended to the family by visiting dlfuneral.com