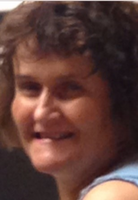 Marina N Christianis
Marina Christianis of Vineland, NJ passed away peacefully in her sleep at the age of 66, at home after a long battle with cancer.
Marina was born on October 8, 1955 in Chios, Greece and came to America in 1966. Marina was married for 46 years to her loving husband Panagiotis. She was a dedicated member of St. Anthony's Greek Orthodox Church and The Ladies Philoptochos of St. Anthony where it gave her great joy to serve as former treasurer and secretary.
Marina was predeceased by her mother, Despina Frangakis, her father Nikolas Frangakis and her sister Irene Frangakis.
Marina is survived by her husband Panagiotis, her son George (Kelley) her grandson Aidan, and her daughter and son-in-law Dana and Peter Maroon. She is also survived by her brother John and his wife Christine, her sister Maria and her husband Andy, her brother Pete, and her brother Kiriako and his wife Nancy. She also leaves behind many nieces, nephews, aunts, uncles, and cousins and the many friends whom she loved like family.
Marina will always be remembered for her faith and love of the church, love of her family, her sweet personality and her famous koulourakia.
Family and friends will be received on Tuesday, December 14, 2021 from 9am to 11am at St. Anthony's Greek Orthodox Church, 430 W. Wheat Rd. Vineland, NJ 08360, followed by a funeral service at 11am. Burial will follow at Siloam Cemetery. In lieu of flowers, the family asks that donations be made to St. Anthony's Greek Orthodox Church in memory of Marina. Memories, thoughts and prayers may be extended to the family by visiting dlfuneral.com.