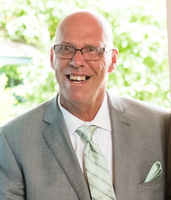 Joel D Reigart
Joel David Reigart, 71, of Pittsgrove, NJ, passed away in the early morning hours of Thursday, January 6, 2022 surrounded by family.
Born in York, Pa to Harry and A. Virginia Reigart, Joel was one of five children. Growing up in York, Joel graduated from Dallastown Area High School in 1968. He then joined the United States Airforce in 1973 for four years, serving in the Vietnam War. After serving in the Airforce and traveling the world, he went to the University of Pennsylvania and obtained a Bachelor of Science in Geology Engineering. He also carried Associate degrees in Music Education and Chemistry. In 1982, Joel married Cynthia and moved to Pittsgrove, NJ where they raised their 3 daughters. After a long career in geological engineering, he retired in 2016 from Holtec International as a construction superintendent.
Joel was a passionate man who had a deep appreciation for music. Music was a big part of Joel's life, whether it was singing in the Jubilee Deo Chorale and Orchestra, singing in their church choir at St. Mary's Church, teaching music education to elementary students, watching his daughter's dance in their dance recital, or singing to his grandchildren; Joel loved music. He also enjoyed making pancakes on Sunday mornings, polishing his lawn, skiing in the winter, and watching the New York Yankees, New York Giants and Penn State Football.
Family was a big part of Joel too. He loved spending time in Ocean City, NJ and hanging at the shore with his family. When he wasn't at the shore, he enjoyed spending time in his garage tinkering with his model trains. When his grandchildren would come to visit, he loved teaching them Spanish. You could always catch him making peanut butter sandwiches and taking a cat nap too.
Joel is survived by his wife, Cynthia and his three daughters, Stephanie Sullivan (Mike), Victoria Reigart and Michelle Petrae (Randon); his siblings, Linda Schaefer, Alan Reigart (Cheryl), and Toby Reigart (Kelly); his 5 grandchildren, David Turner, Addison Sullivan, Olivia Sullivan, Amelia Sullivan, and Abigail Petrae and many more family members and friends.
Joel is preceded in death by his parents, Harry and A. Virginia Reigart; his brother, Bob Fitz, and his granddaughter, Cecilia Sullivan.
Family and friends will be received in a Walk Through Viewing Only on Monday, January 17, 2022 from 5pm to 7pm at DeMarco-Luisi Funeral Home 2755 S. Lincoln Ave., Vineland, NJ. Please wear masks and socially distance. Funeral ceremony and burial will be private.