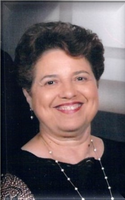 Trinidad "Trini" Corchado
On February 1, 2022, our eternally smiling Trini Corchado Cosme moved on peacefully to be with the Lord and now smiling on us from heaven. She was born on August 8, 1944, in Santurce, Puerto Rico and was married for 60+ years to Luis R. Corchado. They met in Puerto Rico about 70 years ago.
She was predeceased by her father and mother, Trinidad Cosme and Cristina Reyes, and is survived by her two sons, Rafael and Luis Corchado, her older sister Sonia Cosme, grandchildren, great grandchildren, and many other dear family members. She was a virtuous woman, devoted wife, mother, sister, grandmother, aunt, cousin, great grandmother, and friend. More specifically, she enjoyed life and was intelligent, beautiful, strong, generous, an amazing cook, hard-working, loved to laugh and found time to own and operate a successful travel agency.
She is greatly missed and will be forever missed in the days to come during this time of temporary separation.
Relatives and friends will be received on Friday February 4, 2022 from 7:00 pm to 9:00 pm, with funeral services at 8pm at DeMarco-Luisi Funeral Home, 2755 S. Lincoln Ave., Vineland, NJ. The burial will occur on Saturday, February 5, 2022, at 11am at Siloam Cemetery, 550 North Valley Avenue, Vineland.
Rather than flowers, please consider sending a donation in honor of Trini Corchado to the Living Faith Alliance, 1987 S Lincoln Ave, Vineland, NJ 08361.
Trinidad Cosme Reyes, mejor conocida como Trini Corchado, nació en Santurce, PR, un 8 de Agosto de 1944 y falleció el 1 de Febrero de 2022.
Trini siempre fue una mujer brillante, amable, cariñosa y muy servicial, con sus familiares, amigos y como agente de viajes siempre brindó el mejor servicio a sus clientes.
Fue devota esposa, madre, hermana, abuela, tía, prima, bisabuela y amiga, disfrutando de la vida con su familia, varias personas muy cercanas y queridas para ella, y muchos amigos que ella conocía durante su vida.
Aunque vivió muchos años en los Estados Unidos, siempre conservó sus raíces de buena puertorriqueña y por muchos años celebraba el Dia de los Reyes con sus familiares más cercanos, obsequiándo comida y regalos para todos.
Hermana Trini, acabas de entrar en el mundo de los espíritus y sin embargo estás presente entre nosotros, Que Dios Todopoderoso extienda su misericordia sobre tí.
Le sobreviven su esposo por 60 años, Luis Rafael Corchado; sus amados hijos, Rafael Enrique Corchado y Luis Alberto Corchado y sus nietos, bisnietos, su hermana y otra familia.
Familiares y amigos serán recibidos el Viernes 4 de Febrero de 2022 de 7:00 pm a 9:00 pm, con servicios funerarios a las 8pm en DeMarco-Luisi Funeral Home, 2755 S. Lincoln Ave., Vineland, NJ. El entierro ocurrirá el Sábado, 5 de Febrero de 2022, a las 11am en el Cementerio de Siloam, 550 North Valley Avenue, Vineland.
En lugar de flores, por favor considere enviar una donación en honor de Trini Corchado a Living Faith Alliance, 1987 S Lincoln Ave, Vineland, NJ 08361.