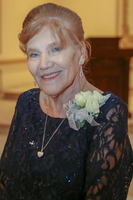 Felicita Padilla
Felicita Padilla, 83, of Vineland, NJ went to her heavenly home where she joined her Beloved son Edwin on April 7, 2022.
She was born in Barranquitas, PR on March 5, 1939, daughter of the late Jose Padilla and Ana Maria Santos.
She was a beloved sister, mother, grandmother, and great-grandmother. Felicita was a homemaker. She was a lifelong member of Spanish Catholic Center/Divine Mercy Parish. She enjoyed dancing, nature walks, breakfast outings and spending time with her grandchildren and great-grandchildren.
Felicita was survived by her three children, Jose O Zayas, Jose D Zayas, and Evelyn Rivera, twelve grandchildren, Jasmin Calderon (Frank), Jocelyn Calderon (Evarito), Anthony Zayas (Cassandra), Cassandra Morales, Mariah Jusiano, Alicia Jusiano, Jennifer Zayas, Jillian Zayas, Jose Zayas Jr, Sherlynn Zayas, Amanda Zayas, Selena Velez (Luis). Siblings Tomasita Padilla and Ana Padilla. A host of great-grandchildren, nieces and nephews.
Felicita was predeceased by her brother Rafael Padilla and son Edwin Zayas.
Family and Friends will be received on Tuesday, April 12, 2022 from 9am to 10:45am at Divine Mercy Parish. Mass at 11:00am followed by Burial at Sacred Heart Cemetery, Vineland.