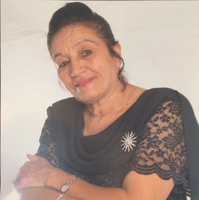 Maria C. Diaz
Maria "Canita" Diaz, 74 of Vineland, NJ went to her heavenly home on Saturday, April 16, 2022 surrounded by her family.
She was born on August 18, 1947 in Lares, Puerto Rico to Baltazar and Otilia Diaz. She was a beloved mother, sister, grandmother and aunt.
Upon arriving to Vineland in August 1971, she obtained her GED to learn English and be able to communicate with others. Maria was a member of the Life of Faith Church, Vineland.
She is survived by her children, Abigail Figueroa (Luis), Miguel A. Morales (Evelyn) and Amircar Diaz; her grandson, Carlos W. Serrano, Jr. and her granddaughter, Adrianna M. Serrano; her sister, Aurea DeJesus and many nieces and nephews whom she loved dearly.
Canita was predeceased by her parents, Baltazar and Otilia Diaz; her son, Baltazar Diaz; 4 brothers, Jose Diaz-Aviles, Jorge L. Diaz, Antonio Diaz and Baltazar Diaz, Jr, and sister, Luz M. Quiles.
Family and Friends will be received on Thursday, April 21, 2022 from 9am to 10am followed by funeral services at 10am at Vida de Fe Church, 1115 S. Main Road, Vineland. Burial will follow at Siloam Cemetery, Valley Avenue, Vineland. Arrangements are by DeMarco-Luisi Funeral Home 2755 S. Lincoln Ave., Vineland.