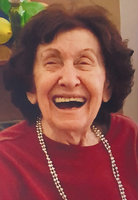 Phyllis M. Sheldon
Phyllis M. Sheldon, 99, passed away on Friday, June 17, 2022 at the Baker Place in Vineland where she resided.
Beloved Wife, Mother, Grandmother, and Great-Grandmother.
Born in Bridgeton, NJ to the late Nicholas and Susan Nasuti, she was a Vineland resident for all of her adult life.
She was a member of Sacred Heart/St. Isidore Church and the St. Padre Pio Senior Club.
Phyllis was predeceased by her husband, Daniel R. Sheldon, Sr. in 1986; her son and daughter-in-law, Daniel, Jr. and Penny Sheldon; her son, William Sheldon; her son-in-law David S. Muller, and 3 sisters and 2 brothers.
She enjoyed reading, bingo, day trips with Baker Place, and visiting with friends and family. The family would like to thank the entire staff of Baker Place for their caring and compassion during my mother's time there, as well as Bayada HOSPICE. Over the years she was especially friendly with her neighbors on Myrtle Street (where she lived for 70 years). Always markedly generous, her home was a favored place for friends, family, and children to eat and play.
Phyllis is survived by her daughter, Donna L. Pickett (David) of Vineland and daughter-in-law, Barbara Sheldon of Buena. Her four grandchildren are Laura M. Rains of Pittsgrove; Glenn D. Muller (Dannielle) of Vineland; Leigh Troth (Donald) of Vineland; and Jody Norman (Charles) of Raleigh, NC. Her seven great-grandchildren are Ashley M. Rains, Christopher B. Rains (Fiancée, Megan Frank), Danny Perez, Kaitlyn Jiminez, Nerys H. Muller, Charles (CJ) Norman, and Kylie Norman. She is also survived by many nieces and nephews.
Relatives and friends will be received on Friday, June 24, 2022 from 10am to 10:45am at Christ the Good Shepherd Parish, St. Isidore's Church 1655 Magnolia Rd., Vineland. Followed by a funeral mass at 11am. In lieu of flowers, donations should be made to a Cancer or Heart foundation of your choice. Arrangements are by DeMarco-Luisi Funeral Home 2755 S. Lincoln Ave., Vineland.