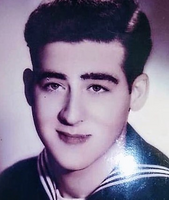 John P. Viola
John Paul Viola, Sr. passed away at Inspira Hospital of Vineland on July 18, 2022 at the age of 90.
He was born in Bridgeton, NJ on August 3, 1931, and later moved to Vineland during his youth where he attended Vineland High School.
He enlisted in the United States Navy and served in the Korean War as a medic. He was a decorated veteran and later wrote and published a memoir about his experiences called The Second Truth.
After returning from his military service, he began his career in the manufacturing industry, working his way up to supervisor at both the West Company in Millville and Wheaton's Industries, Inc. in both Millville and Mays Landing.
He loved to tell his stories about his experience in the military and his career.
He was a wise and extremely intelligent man who loved to read and watch educational television shows on the Discovery Channel and the History Channel. He spent many hours of youth at the Vineland Public Library reading any book that he found interesting.
He was loved by many and will be sadly missed by his many friends, neighbors, and family. He was kind and generous to anyone he considered a friend.
He was preceded in death by his beloved wife of sixty-six years, Anne Louise (Robbins) Viola; his mother, Oma (Simpkins) Viola; his sisters, Rosalie Viola, Theresa Passarelli and Frances Viola.
He is survived by his sons, Brian Bassetti of Millville and John P. (Adrienne) Viola, Jr. of Vineland; a daughter, MaryAnne (Robert) Barber of Vineland; three grandchildren: Amanda (Andrew) Boehm of Millville, Eric (Suzanne) Viola of Rutland, Vermont, and Lexi Viola of Vineland; and two great-grandchildren, Caleb and Laci both of Millville.
Relatives and friends will be received on Friday, July 22, 2022, from 10:00 AM until 10:45 AM at Our Lady of the Blessed Sacrament Parish-St. Michael's Roman Catholic Church, 504 S. West Ave., Minotola. A Mass of Christian Burial will follow at 11:00 AM, after which a graveside service will be held at Siloam Cemetery, Vineland.