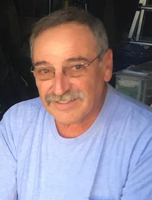 Frank Cugino, Jr.
Frank Cugino, Jr., 71 of Vineland, passed away on Sunday, July 17, 2022, joining his parents, Frank, Sr. and Rita Cugino, and his beloved daughter, Maria.
Frank was born on July 15, 1951, in Vineland, and graduated from Vineland High School, Class of 1969. Frank furthered his education later in life, eventually acquiring an MBA. In 1972, Frank started his career as a service worker in the glass industry, and later excelled to logistics manager, then tech advisor of plants in Czechoslovakia and Beijing, China. At the time of his passing, he was a manufacturing manager at Owens-Illinois/Kimble/Gerresheimer Glass.
Frank was a generous, ingenious man known for his giant smile beneath his legendary mustache. He lived up to his name and was often "frank" and candid in his interactions with friends and loved ones. He was active in the community, coaching little league baseball and midget football, serving as president of the Rec Club, and as a member of 4H. Frank enjoyed hunting, golfing, and playing pinochle. He was a devout Catholic, faithfully serving as usher at Divine Mercy Parish for Sunday mass. A man of many talents, he excelled at chess, was an outstanding cook, a remarkable farmer who tended a beautiful garden year after year, and he rode cross country three times, coast to coast, on his Harley.
A loving husband and father; a supportive brother and son; and a loyal friend, he will be greatly missed.
Frank is survived by his wife and love of his life, Ljudmila Thieme; his children, Nevada, Michael and Joseph; his god son, Matthew; his siblings, Gregory and Rosemary; many grandchildren; one great grandchild; and many nieces, nephews, and friends.
Relatives and friends will be received on Saturday, July 23, 2022 from 10:00am until 10:30am at Divine Mercy Parish, 23 W. Chestnut Avenue, Vineland, NJ 08360. A Funeral Liturgy will follow at 10:30am. Interment will be held privately.
In lieu of flowers, donations may be made in Frank's memory to Divine Mercy Parish.
Funeral arrangements have been entrusted to DeMarco-Luisi Funeral Home, 2755 S. Lincoln Ave., Vineland.