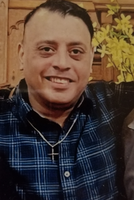 Jose "Peanut" Rodriguez Jr.
Jose (Peanut) Rodriguez, Jr. of Landisville, NJ, passed away at Our Lady of Lourdes early Wednesday morning, July 20, 2022, surrounded by his mother, husband, and sister Debbie. Jose, age 46, was born and raised in Vineland, NJ.
Jose was a happy, fun-loving, and generous person who was beloved by his family and friends. He leaves behind his mother, Carmen Milete; his husband, Michael Totino; and sisters Debbie Rodriguez, Gladys Rodriguez, and Michelle Milete. In addition, he is survived by his beloved nieces, nephews, and grandnephews, Erica Santos, Alex Santos, Aaron Santos, Samya Montalvo, Devon Gonzalez, Jayce Santos, Aaron Santos, Jr., and Jasper Rivera, Jr. He is also survived by his aunts and uncles, Nilsa and Mario Figueroa, Gladys and Jimmy Britton, Nora and Albert Gonzales (also god parents), Mike and Maria Mercado, Ish and Cathy Mercado, and Jose Mercado.
Relatives and friends will be received on Friday, July 29, 2022, from 10:00am until 11:30am at DeMarco-Luisi Funeral Home, 2755 S. Lincoln Avenue, Vineland. Funeral services will be held at 11:30am. Interment will follow in Sacred Heart Cemetery, Vineland.
In lieu of flowers, the family requests donations be made in his honor to the
Virtua Foundation. Please earmark the donation for the Center for Organ
Transplantation. This can be done online by going directly to www.givetovirtua.org or by calling (856)355-0830.