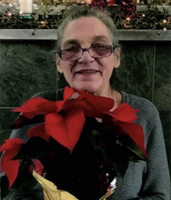 Linda J. DeFelice
Linda Joyce DeFelice (Smith), 71 of Buena Borough, NJ, passed away on Friday, July 22, 2022 at Inspira Medical Center, Vineland, under the care of Hospice after a courageous battle.
Linda was born November 20, 1950. She attended Vineland High School and worked at Kontes Glass for many years as a Shrink Machine Operator. Linda was a very hard worker who loved her family.
Linda was predeceased by her parents, Charles E. and Eleanora (Hvezda) Smith, husband, Frank DeFelice, son, Michael Weisgerber, brother, Charles A. Smith, special grandson, Christopher Weisgerber and niece Rebecca Totino.
She is survived by sons, Joseph Weisberger, Buena Borough, Ryan (Gina) DeFelice, PA., Seven grandchildren, sister Patricia (Dominick) Fioresi of Vineland, brothers Gary Smith, FL, Carl Smith, MD, sister-in-law, Vivian Smith, FL and three fur babies, plus many nieces, nephews and cousins.
Funeral services will be private.