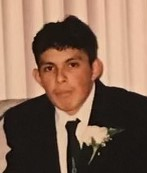 Cristino Morales Ramos
Cristino Morales Ramos passed away at the age of 41 on Friday, July 22, 2022.
Cristino was born on August 10, 1980 in Veracruz, Mexico. In his early teens he moved to Bridgeton, N.J. where he attended a few years in Bridgeton High School.
After high school, he started a family with his wife, Olga. Shortly after he decided to move to Vineland where he also started his work in construction.
Cristino was an affectionate, attentive, kind and humorous.
He loved his three children, Chelsea, Rashel and Christopher.
He was beloved by his family and friends until his day of passing.
Family and friends will be received on Friday, August 5, 2022 from 10am to 12pm with funeral services from 12pm to 1pm at the Iglesia Adventista del Septimo Dia Panamericana, 765 S. 6th Street Vineland, NJ. Burial will follow in Siloam Cemetery, Vineland.