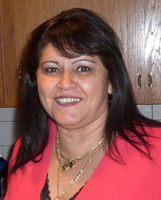 Nena E. "Eunice" Rivera
Nena Eunice Rivera "Tita", 64, of Minotola, NJ passed away peacefully, Saturday, July 30, 2022.
Eunice was best known for her heart of gold and generosity. She loved and was loved by her family deeply and enjoyed her time spent with her grand and great-grandchildren.
Born and raised in Minotola, NJ, she was a seamstress at a young age then became a beloved custodian in Hamilton and Vineland Township until she retired.
Eunice is predeceased by her parents, Dionisia and Ismael Echevarria; her loving daughter, Priscilla M. Torres; her siblings, Ismael Jr., Edison Echevarria and Gladys Hernandez.
She is survived by her husband, Pablo Rivera; beautiful daughters, Melissa Rivera (Anthony L. Johnson), Denise Rivera-Bates (John D. Bates Jr.) and son-in-law, Luis Torres Jr.; her grandchildren, Jazilyn N. Rivera (Giovanni Rivera) Luis P. Torres, Reyna E. Torres (Erique Cabrera), Priscilla D. Torres, Isabella A. Bates and Roseanna M. Bates; great-grandchildren, Everleigh M. Rivera and Elysio D. Cabrera; siblings, Nelly, Noel, Sukie, Daisy, Nancy, Miriam, Evelyn, Edwin, Henry and Agnes; sister-in-laws, AnaRosa, Maria and Haydee; brother-in-laws, Wilfredo and Enrique Rivera, as well as a host of nieces and nephews she adored.
We ask that everyone wear yellow, light colors or white to the services, if possible.
Family and friends will be received on Saturday, August 6, 2022 from 9am to 10am with funeral services at 10am at DeMarco-Luisi Funeral Home 2755 S. Lincoln Ave., Vineland. Burial will follow in Our Lady of Victories Cemetery, Landisville.