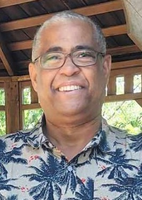 Luis A Cardona
Luis A. Cardona, age 60 of Vineland, gained his wings on Saturday, July 30, 2022. Luis was born in Fajardo, Puerto Rico to Marta Burgos and the late Benito Cardona.
Luis was a proud Shop Steward of UniteHere Local 54 Labor Union in Atlantic City, and he was loved by his enormous family at Bally's Casino for over 38 years. His evening routine after work included, playing with his dog, Ella, enjoying a hot meal prepared by his fiancé, sharing stories about his co-workers, and watching WWE Wrestling after a nice hot shower.
He also enjoyed working on cars, riding his bicycle, going for a swim, his many vacations to Florida, gardening, grilling ribs, and cooking authentic Puerto Rican food for friends, family, and even strangers!
Luis was predeceased by his father, Benito Cardona, and sister, Rosa Cardona.
Luis is survived by his loving fiancé of 10 years, Maria Hemple, of Vineland; his mother, Marta Burgos of Vineland; his children, Angel Cardona and Veronica Rodriguez and husband Julio; his grandchildren, Isabella, Andrew, David Jr, and Naeomi; his stepchildren, Matthew Hemple and girlfriend Satya and Joshua Hemple and fiancé Kassi; grandchild, Nevaeh and dog Ella. Luis also is survived by his 8 siblings, Jose Cardona and wife Edna, Candido Cardona and wife Luz, Juan Cardona and wife Scherrie, Maria Cardona, Jesus Cardona and wife Teena, Liz Dattner and husband Edward, Josue Burgos, and Juan Rodriguez and wife Marisol; his godchildren, Theresa Cardona and Kevin Chestnut, along with countless niece, nephews and cousins.
Family and friends will be received on Monday, August 8, 2022 from 10am to 12pm with funeral services at 12pm at DeMarco-Luisi Funeral Home, 2755 S. Lincoln Ave., Vineland. Burial will follow in Sacred Heart Cemetery, Vineland.