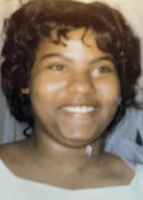 Brenda Sue Myrick Ridley
Brenda Sue Myrick Ridley, 73 of Vineland, went home to be with the Lord on Friday, August 5, 2022. She was born to Troy and Mattie Roberts and attended Vineland High School.
Brenda retired from the Vineland Developmental Center after 25 years. Anyone who knew her knew she was a devoted employee. She enjoyed cooking, fishing, dancing and spending lots of time with her children and grandchildren and her sister, Rosa Lee laughing and joking.
She leaves to cherish her memory her husband, Norman Ridley of Atlantic City; four children, Jacqueline Williams, James N. Myrick Sr., Shannon Myrick and Tanisha Thomas; 25 grandchildren and a host of great grandchildren; three sisters, Rosa (Bob) Walker of Vineland, Addie (Clancey) Miller and Addie and Ruby Thomas of Valdosta, Georgia; one brother, Roy Roberts and one sister-in-law, Betsy Roberts.
She was predeceased in death by her mother and father; her sister, Betty Gillispie; brother, Roger Roberts and grandson, Jeremy Williams.
Family and friends will be received on Monday, August 15, 2022 from 10am to 11am with funeral services to follow from 11am to 12pm at DeMarco-Luisi Funeral Home, 2755 S. Lincoln Ave., Vineland. Burial will be private.