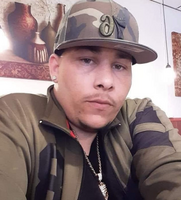 Gilbert G. "Gillie" Ramos, Jr.
Gilbert Geromino Ramos, Jr., age 45 past away Thursday, September 1, 2022.
He's survived by his wife, Brenda Ramos; son, Michael Ramos; his mother, Iris Colon; father, Gilbert Ramos Sr.; brother, Edwin Ramos Sr; sisters, Yanitza Ramos-Rivera, Nereida Rodriguez, and Heather Rodriguez; 14 nieces and nephews; a great niece and nephew; in which every one of them he considered as his own. Along with many aunts and uncles.
He was predeceased by his maternal grandparents, Providencia Colon and Ismael Colon; his paternal grandparents, Francisca Ramos and Lorenzo Ramos.
He had many trades as a welder, forklift driver, and detailer. He loved landscaping and was a protective family man. He enjoyed the outdoors, music, he was a fan of the Dallas Cowboys and the New York Yankees. He had a warm smile, contagious laugh, funny sense of humor, heart of true gold, a God's man. He had a great social personality, respectful, loving, caring, helpful, and amazing with all children.
Family and friends will be received on Thursday, September 8, 2022 from 6pm to 8pm with funeral services at 7:30pm at DeMarco-Luisi Funeral Home, 2755 S. Lincoln Ave. Vineland. Burial will be private.