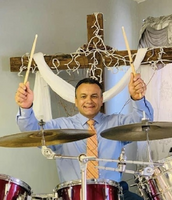 Julio A. Quiles
Julio A. Quiles, 58 of Vineland, passed away suddenly on Tuesday, August 30, 2022.
Julio was born in Arecibo, Puerto Rico on January 18, 1964 to the late Julio and Luz (nee Diaz) Quiles. Julio was a devoted member of New Life World Outreach Church in Millville and was also an online Evangelist. He had his own radio station, Mana' Radio, and was also interested in CB radio, using the handle "Jupiter." Julio was a talented musician, excelling at playing the drums. He enjoyed being a mechanic and helping those who needed his skills, and he loved gardening. Julio was beloved by all who knew him and will be missed by so many.
He is survived by his wife, Ivette Quiles; his children, Luis Muniz of Vineland and Nelson Muniz of Florida; and his siblings, Ruben Quiles, Luz Andujar, Rosa Quiles, Juan Quiles, Daniel Quiles, David Quiles, Isaias Quiles, Grace Jordan, and Joel Quiles.
Relatives and friends are invited to a visitation on Friday, September 9, 2022 from 4:00pm until 5:00pm at New Life World Outreach, 201 Bluebird Ln, Millville, NJ 08332. A funeral service will follow at 5:00pm at the church. Interment will be held privately.