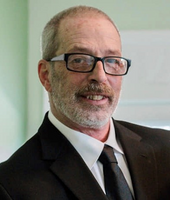 Michael Salotti
Michael "PopPop" Salotti, 64 of Vineland, passed away on September 04, 2022 after a short battle with cancer.
Michael joined his parents in heaven, Clement Salotti and Carmella (Myers). He is survived by his son, Chris Salotti (Ashley); his grandchildren, who were undeniably his greatest joy in life, Khloe and Christopher Salotti Jr.; his loving sisters, Donna D'Ambrosio (Ralph), Linda Newton (Patrick), and his twin, Kathy Rocco; his Aunt, Marie Rusnak, who was like a second mom to Michael. He had several nieces and nephews and many cousins and good friends.
He graduated from Vineland High School, Class of 1976, and became a Supervisor at Supply It All in Vineland, NJ.
He spent his days shining his cars, enjoying the casinos, and playing with his grandchildren. Everyone who knew him would say he is kind, loving, hard-working, and a little stubborn. He will be missed endlessly.
Funeral services are private. Arrangements are by DeMarco-Luisi Funeral Home 2755 S. Lincoln Ave., Vineland.