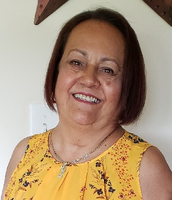 Carmen Clavell
Carmen Esther Clavell (Colón) 65, of Vineland, New Jersey passed away gracefully at home, surrounded by her beloved children on October 9, 2022. She fought a very brave, courageous breast cancer fight over the past 3 years.
Carmen was born in Arecibo, Puerto Rico to Dionisio Colón Alicea and Vicenta Cardona Aviles on December 4, 1956 and was one of five children.
Carmen moved from Lares, P.R to Vineland when she was a teenager. She attended Vineland High School, obtained her GED and attended Cumberland County College where she majored in nursing. She worked as a Human Service Technician at the New Jersey Veterans Memorial Home for over 30 years, before retiring in January 2019.
Carmen was loved by everyone and could light up a room with her contagious laugh and infectious smile. She was a member of the Divine Mercy Parish and loved going to church, shopping, cooking, and most of all eating. Carmen worked hard for her children and they were her world. She loved to travel and spend time with her family.
Carmen is survived by her brother, Juan; her 4 daughters, Ivette (Eddie), Daisy (Carlos), Angelica (Larry), and Jackie; 13 grandchildren and 13 great-grandchildren, whom she adored. She was a loving, selfless mother, grandmother, sister, and friend. Carmen leaves a host of nieces, nephews, cousins, aunts and friends to cherish her memory.
She was predeceased by her mother, father and sisters, Carmen Lydia, Carmen Iris and Carmen Maria.
Although she will be greatly missed, we rejoice that she is finally with Jesus whom she spoke to and prayed to every day of her life! In the words of my mother: "When I die, my spirit will live on". Heaven has gained a true angel.
Family and friends will be received on Thursday, October 13, 2022 from 6pm to 8pm at DeMarco-Luisi Funeral Home 2755 S. Lincoln Ave., Vineland. A funeral mass will be held on Friday, October 14, 2022 at 11am at Divine Mercy Parish, 23 W. Chestnut Ave., Vineland. Burial will follow in Sacred Heart Cemetery, Vineland.