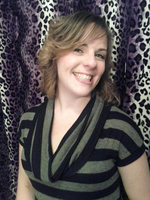 Stephanie Lynn Friedman
Stephanie Lynn Friedman passed away on the evening of November 11, 2022, in Fayetteville, NC in an automobile accident at the age of 40.
Stephanie was born to Donna Fantini and William Friedman in 1982 in Vineland, NJ. She graduated in 2000 from Highland High School, Blackwood, NJ. She was currently seeking an internship as a veterinarian tech. Stephanie was an avid animal lover and loved her animals tremendously, she opened her heart to every animal she came in contact with. She worked for her mom's cleaning business, and also worked for her father's bread delivery service. She enjoyed cooking in the kitchen, especially all the Italian dishes. She danced in her early years and spent her childhood years playing softball and received several trophies. She also loved to write poetry.
Stephanie was known for her infectious beautiful smile and bubbly personality. She left an impact on everyone's life she touched with her kindness and love for life; she was a free spirit. She loved children and could relate on any level. The most important part of Stephanie's life was her family, they meant everything to her. She was always happy, ambitious, and always had a kind word to say about everyone.
Stephanie was preceded in death by her maternal grandparents, Michael and Rose Fantini; and her paternal grandparents, Max and Molly Friedman. She is survived by her parents, Donna Fantini and Bill Friedman; siblings Jeffrey Friedman and Gabrielle Friedman; step siblings, Carly, Chris and Nick Argenbright and Jared Boos; nephews Julius, Jr., and Javion; aunts and uncles, Darlene and Todd Weaver, Debra (Fantini) and Bruce Chalow, Dahlia Vernikovsky, and Deborah Jaffe; and cousins, Todd, Jr., Brandon and Katlynn Weaver, Alyssa Fantini, Guy Vernikovsky and Maya Jaffe; and also great cousin Atticus Clark.
Relatives and friends will be received on Wednesday, November 23, 2022 from 3:00pm until 5:00pm at DeMarco-Luisi Funeral Home, 2755 S. Lincoln Ave., Vineland, where a funeral service will be held at 4:30pm. Interment will be held privately.
In lieu of flowers, please send donations to your local animal organization.