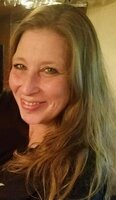 Christine R. Klein
Christine Klein, 54, of Delmont and Malaga, New Jersey, passed away on January 6th, 2023, after a year of battling breast cancer. Christine was born on October 1st, 1968, to John and Kathy Klein (Leonard) on Long Island, New York.
She was predeceased by her brother, Justin. She is survived by her parents and her 3 children, Josh, Sunni (Nick), and Gwen and 1 grandson, Elliot; her companion, Scott Parks; her brothers, Kenton (Korin) and John (Jeannie) and many aunts, uncles, nieces, nephews, and cousins.
She loved listening to music and going to concerts, watching movies, being in nature, and going on adventures especially with her nephew Ethan. She was an avid lover of roller coasters and Halloween was her favorite holiday.
Christine was a breath of fresh air. Anyone who knew her, loved her immediately. She was kind, loyal, funny, and always ready to forgive in any situation. We believe that was Christine's greatest gift as a born-again Christian, her ability to forgive. Though she had her struggles, Christine was happy and loved. She was a fighter and never gave up. She always had a positive mindset even in the darkest situations. She was one of the kindest, down-to-earth people. She was a blessing to us all, especially to her 103 year old grandmother, Lucille Klein.
Family and friends will be received on Friday, January 13, 2023, from 2:00p.m. until 4:00p.m. with a funeral service at 3:30p.m. at DeMarco-Luisi Funeral Home, 2755 S. Lincoln Avenue, Vineland, N.J. 08361. Burial will be private.