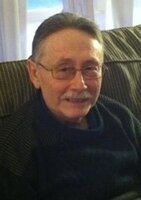 Gregory C. Hennis
Gregory C. Hennis, a life-long resident of Millville, NJ, went home to be with the Lord on January 20, 2023 at the age of 75 after an extended illness.
Greg was born on July 9, 1947, to Charles and Elizabeth Hennis. After graduating high school, Greg worked briefly as a disc jockey for WWBZ before starting his career at Wheaton Glass. On October 28, 1967, Greg married his wife of 55 years, Delise.
Shortly after learning he was going to be a father; Greg was called to serve his country in the United States Army. After proudly serving for three years, with one year in Vietnam, Greg returned home and resumed working at Wheaton Glass where he spent the next 42 years.
Greg's greatest joy was being a father and grandfather. He was happiest when he was with his boys or his grandchildren.
Greg is survived by his wife, Delise Hennis (née McMahon); his children, Greg Jr. (Carrie), Scott (Jill), and Brent (Alyson); his grandchildren, Gregory III, Allison, Eric, Rachel, Carly, Joshua, and Emily. Greg was predeceased by his father, Charles and his mother, Elizabeth.
The funeral service is scheduled for Thursday, January 26, 2023 at the First Church of the Nazarene located at 2201 E Main St, Millville, NJ 08332. Visitation will be held from 10am to 12pm, followed by the service at 12pm. Reverend Jonathan Merki will officiate. Burial will follow at Mt. Pleasant Cemetery, Millville. In lieu of flowers, donations can be made to The Arc of Atlantic County 6550 Delilah Rd, Suite 101 Egg Harbor Township, NJ 08234. Arrangements are by DeMarco-Luisi Funeral Home 2755 S. Lincoln Ave., Vineland.