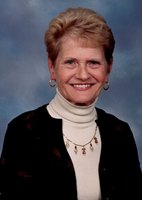 Joan M. Annello
Joan Marie Annello, 86, passed away Sunday, January 22, 2023, with her family by her side.
Joan was born September 6, 1936 to Kurt and Elizabeth Leichsenring in Philadelphia, Pennsylvania, and was one of four children.
She was a 1955 graduate of Holy Spirit High School in Atlantic City, NJ, where she was a proud majorette. She later worked for New Jersey Bell Telephone Company as a long distance operator, Prudential Insurance, Donato's Mushroom Farm, and Cifaloglio Waste Management.
Although small in stature, Joan's bubbly personality lit up a room. Her love to dance led her to the love of her life, Paul Annello, whom she met at Buena Hall and later married in October 1958 at Our Lady Star of the Sea in Atlantic City, NJ.
Joan was a beloved wife, mother, grandmother, and friend who loved to entertain. She was the epitome of selfless, unconditional love.
Joan is survived by her husband of 64 years, Paul Annello; daughter Liz Mancuso and husband, George; daughter Jina Annello and husband, Ken Harris; five grandchildren, Lauren, George, Paul, Alex, and Rachel; three great grandchildren, Charlie, Georgia, and Sylvia; and sister, Ella League.
She was preceded in death by her son, John Annello.
Joan will be deeply missed by her family, friends, and all who knew her. Her love and spirit will live in the beauty all around us in every life she touched.
Relatives and friends will be received on Friday, January 27, 2023 from 10:30am until 11:30am at Our Lady of Victories Church, 202 North West Blvd., Landisville. A funeral liturgy will follow at 11:30am. Interment will be held in Our Lady of Victories Cemetery, Landisville. Arrangements have been entrusted to DeMarco-Luisi Funeral Home, 2755 S. Lincoln Ave., Vineland. Memories, thoughts, and prayers may be extended to her family by visiting dlfuneral.com