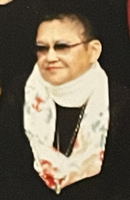 Elena M. Concepcion
Elena Maria Concepcion, age 68 of Millville, NJ passed away unexpectedly Friday February 3, 2023.
Elena was raised in Atlantic City, NJ. Elena worked at several Burger King locations for many years until retiring. She was an avid crafter and enjoyed making jewelry which she sold.
A devout catholic, one of her favorite rituals included attending the annual blessing of the sea in Atlantic City. Elena also chose to turn her pain into purpose by becoming a supporter of the American Foundation for Suicide Prevention–Out of the Darkness Walks to honor her son Michael's memory and raise awareness. Elena's greatest pleasure was spending time with her grandchildren and great grandchildren.
Elena is predeceased by her parents, Martin Concepcion and Helen L. Graeter; and her beloved son, Michael Alan Concepcion.
Survived by her only daughter, Angelena M. Williams and husband Reginald; treasured grandchildren, Jazlyne, Rae'Anah, Robert, Jah'Asia, Morgan, Ryan, Jasmin,Anjeliah, Ashawnacy, Ashlynn, Reginald Kemel,Briana and Eve; adored great grandchildren, Hazelle, Carmello, Anthony, Savayne and Camron; cousin, Teresa Concepcion and beloved uncle, Francisco Concepcion.
Relatives and friends are invited to attend a Memorial Service on Saturday, February 18, 2023 from 10:00am to 11:30am with funeral services to follow at 11:30am with Fr. Joel Arciga of Divine Mercy Parish, officiating at DeMarco-Luisi Funeral Home, 2755 S. Lincoln Ave., Vineland.
In lieu of flowers, donations may be made to American Foundation for Suicide Preventions – Out of the Darkness Walks Northeastern Division 199 Water Street 11th FL New York, NY 10038 afsp./newjersey in memory of Michael Concepcion.