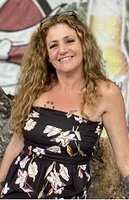 Dana M. Gnatz
Dana Marie Gnatz, age 47 of Landisville, NJ passed away unexpectedly in the early hours of Friday, February 17, 2023, at Cooper Medical Center while surrounded by family.
Dana was born on January 3, 1976, to Dale Genovese and the late Paul Gnatz in Freehold, NJ.
Throughout her life, Dana overcame so many obstacles and persevered through them all. She was a wild and free spirit who enjoyed tending to her house plants and spending time with all of her loved ones. She was an animal lover all of her life and spent most of her time caring for her fur babies at home, especially her two dogs, Bella and Catalaya. Dana is survived by her three beautiful children - Tyler, Alexis and Brandon Stuart; her mother, Dale Genovese; and two sisters, Corinne and Danielle Gnatz.
A private Celebration of Life will be held for Dana on Saturday, February 25th for close friends and family. In lieu of flowers, donations may be made to Best Friends Animal Society https://bestfriends.org/donate/memory.