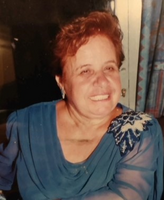 Fotini Dambalas
Fotini (Foula) Dambalas, age 88, of Millville, NJ, passed away peacefully with her daughter by her side on February 22nd, 2023.
Foula was born on February 24th, 1934 in Rodolivos, Greece to Kalouda Paiatska-Papadaniil and Daniel Papadaniil. She came to the United States in 1978 and worked as a seamstress for Rennoc Corporation.
Foula was a charismatic, caring, and compassionate soul. Her greatest joy was being around her family and friends, cooking and baking for them. Many enjoyed her delicious koulourakia, tyropita, and spanakopita.
Foula's greatest love was her family. She took most pride in being "yiayia" to 4 beautiful grandsons. Along with family, she was also an active member of St. Anthony's Greek Orthodox Church. Any time not spent with family and church, was filled with travels to Greece.
Foula is survived by her daughter, Katerina (Thanasi), Dino (predeceased) (Carolina), and grandsons, Angelo, Milton, Konstantinos, and Fotis.
Family and friends will be received on Tuesday, February 28th, 2023 at St. Anthony's Greek Orthodox Church, 430 W. Wheat Road, Vineland, NJ from 10:00 am to 11:00 am with a liturgical service at 11:00 am. Burial will follow at Siloam Cemetery, Vineland. Donations can be made to St. Anthony's Greek Orthodox Church. Arrangements are by DeMarco-Luisi Funeral Home, 2755 S. Lincoln Ave., Vineland.