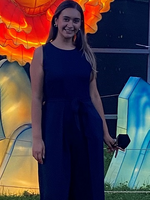 Laura P. Napoles
Laura P. Napoles, age 22 of Vineland, NJ passed away on Thursday, March 2, 2023, surrounded by her family at home. Laura was born on July 22, 2000 to Luis Napoles and Laura Serrano in Vineland, NJ.
Laura displayed great bravery and courage upon being diagnosed with Cancer in 2022. She fought like a warrior and she was determined to remain loyal to Jehovah her God under all circumstances. Laura truly believed in the hope of the resurrection on a beautiful paradise earth as promised in the Bible (Rev. 21:3,4).
She graduated Class of 2018 from Vineland High School. Laura worked as a Front Desk Receptionist at Premier Orthopedic Associates Physical Therapy.
She loved food, especially Chick-fil-a. and even in her last moments, she made sure to have Chick-fil-a. Laura loved her family and was a very protective big sister. Her smile would light up any room. She was the most loving, kind, generous, charismatic, friendly, and energetic person anyone could ever meet. Laura would dance the night away if you let her and she loved to karaoke with friends and family. Cruising was her favorite form of travel. She was an awesome daughter, sister, and friend.
Laura is survived by her father, Luis Napoles; her mother, Laura Serrano; and her two sisters, Natalia Napoles and Karen Napoles.
Family and friends will be received on Friday, March 10, 2023 from 6pm to 8pm at DeMarco-Luisi Funeral Home, 2755 S. Lincoln Ave., Vineland and again on Saturday, March 11, 2023 at the Kingdom Hall of Jehovah's Witnesses, 225 E. Oak Road Vineland from 6pm to 7pm followed by a service talk at 7pm. Burial is private.