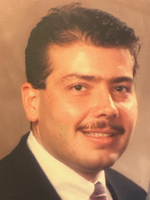 James A. "Jimmy" Reale
James "Jimmy" A. Reale, 56, passed away unexpectedly on March 9, 2023 at his home in Clementon, New Jersey. He was born in Vineland on October 11, 1966 to Anna (VanSteyn) and the late Frank Reale Jr. Jimmy attended Vineland Public Schools and worked in the restaurant industry for many years.

He was predeceased by his father Frank Reale Jr., his sister Kathleen, his sister-in-law, Geri Reale and brother-in-law, Daniel Spatafore Jr.

He is survived by partner Mark McFadden of Clementon, NJ, his mother Anna (VanSteyn) Reale, his brothers Nick (Ruth) Reale and Joe (Brenda) Reale, his sisters Sharon (Bob) Hagenow and Lisa Spatafore and many nieces, nephews, family and friends.

Funeral services will be private. For those who wish, donations can be made to Our Lady of the Blessed Sacrament Parish, 504 South West Ave, Minotola, NJ 08341. Arrangements are by DeMarco – Luisi Funeral Home, 2755 S. Lincoln Ave. Vineland, NJ.