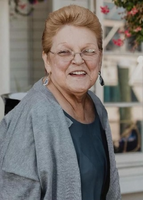 Joan E. Girone
Joan E Girone of Buena, NJ passed away on Friday, March 10, 2023 at Inspira Medical Center, Vineland with her family by her side.
She was born on May 4, 1955 in Vineland and resided there most of her life. She retired from Santori's Produce after many years of service.
Joan was predeceased by her husband of 45 years, Tony and her parents, Jack and Evelyn Tharp.
She is survived by her sisters, Nyla Tharp-Errickson and Jackie Gervato (Greg); her nephews, Gregory Gervato, Jr. (Nikki) and Matthew Gervato (Anna).
Family and Friends may gather on Wednesday, March 15, 2023 from 6pm to 8pm at DeMarco-Luisi Funeral Home, 2755 S. Lincoln Ave., Vineland. Burial will be at the convenience of the family. In lieu of flowers donations may be made to the family in care of Nyla Tharp-Errickson.