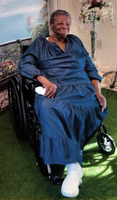 Vivian Houser
Vivian Houser, 77 of Millville.
Vivian was born in Washington, D.C. on October 7, 1945. She was raised by her mother Wilamina Reedy in Johnston, SC. Later on, Vivian was married to Charlie Houser and they had four children: Darlene, Laura, Charlie, and Vivian Ann. They moved to Vineland where she raised her six children.
Vivian met two church ladies, Ms. Alberta Seger and Sister Betty Burke who became her friends and helped to raise her six children in the church. Vivian joined the Revival Fellowship where she ushered for many years.
Vivian loved the Lord and loved going to church. Later on, Vivian's health declined and she went to Genesis Nursing Home where she met Ms. Dorothy, her roommate for 5 ½ years; they were best friends.
Vivian passed away at Inspira Hospital on Wednesday, March 8, 2023. She leaves to cherish her beautiful memories, her children, Burnett Reedy, Darlene Mills, Laura Houser, Charlie Houser, and Vivian Houser; her grandchildren, Daniel Reedy, Nicole Houser, Jeremy Malloy, Sasha Malloy, Gavin Telfair, Jr., and Elijah Valentin; great grandchildren, Sky Malloy, Unique Malloy, and Kai'ar Nichols; and many nieces, nephews, cousins, friends, and family.
She was predeceased by Valeria Reedy, Terry Reedy; grandsons Johnnie Malloy, and Adam Reedy; and brothers Johnny Roper, Raymond Roger, and Sherman Roper.
Relatives and friends will be received on Friday, March 17, 2023 from 10:00am until 11:00am at DeMarco-Luisi Funeral Home, 2755 S. Lincoln Ave., Vineland. A funeral service will follow at 11:00am. Interment will be held in Siloam Cemetery, Vineland.