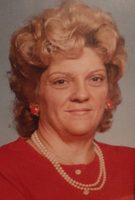 Mary Ann "Marie" Kaganzev
Mary Kaganzev (nee Marie Jiannone), passed away on Tuesday, May 2, 2023. She was born in a farmhouse on Lower Mill Rd in Elmer, NJ. Her parents were farmers. She met her husband Nick in 1962 and they had three children together.
She worked at Kress and Ed and Alba's in Vineland. She enjoyed working because she met so many nice people at work. She loved shopping with her family and having special times with her grandchildren and great grandchildren.
She leaves behind her three children, Nicholas Kaganzev Jr. (Michelle), Lisa Bennett (Chuck) and Mary Reeder (Steve) along with her great grandson, Isaiah Bennie who was raised by her and her husband since he was 4 ½ years old. She also had many grandchildren and great grandchildren that she leaves behind and they will greatly miss her.
She is predeceased by her husband, Nicholas Kaganzev Sr., her parents, Mary and Gus Jiannone and her siblings, James, Grace, Frank, Sol, Rocco, Madeline and Gus and her granddaughter, Kathleen Kaganzev-Hughes.
Family and friends will be received on Thursday, May 4, 2023 from 6pm to 8pm at DeMarco-Luisi Funeral Home 2755 S. Lincoln Ave., Vineland and again on Friday, May 5, 2023 from 10am to 11am followed by 11am Mass at Our Lady of the Blessed Sacrament Parish, St. Michael's Church, 504 S. West Ave., Minotola. Burial will follow in New Kuban Russian Orthodox Cemetery, 347 Weymouth Rd., Buena, NJ.