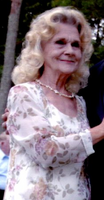 Carol A. Oliver
Carol Ann Oliver (Joseph), 81 of Vineland NJ, passed away on Sunday May 7th, 2023 surrounded by her loving family.
Carol was born in Philadelphia, Pa on March 19, 1942 to William Joseph and Evelyn Frank. Her family later moved to Ocean City where she attended Ocean City High School and graduated. She worked many years as a housekeeper and bartender at the College Inn before becoming self-employed. Carol enjoyed fishing, horse racing, hunting, gardening, country music, The Dallas Cowboys, decorating her gigantic Christmas tree, cooking, her beloved dog, Buck, and spending time with her family. Carol was also the team Mom to many for the Vineland Midget Football League.
Carol is survived by her children, Amy Solomon (Wayne), Jeff Oliver (Jody), and Beau Oliver (Diana); grandchildren Joseph Pettit (Nick), Kari (Matt) Corson, Shaina (Pete) Varesio, Joey (Shelby) Sansalone, Jeffrey Oliver, Noah Sansalone, Brilee, Alivia, Luke, Garron, and Abigail Ann Oliver; and great-grandchildren Kingsley, Emmaline, Kaitleigh and Oliver.
Along with her parents, she was predeceased by her husband, Millard (1970).
Relatives and friends are invited to attend Carol's viewing on Friday, May 12, 2023, from 3:00pm to 4:30pm followed by a funeral service at 4:30pm at DeMarco-Luisi Funeral Home, 2755 S. Lincoln Avenue in Vineland. At Carol's request, her final resting place will be in the Great Smoky Mountains at a later date. In lieu of flowers please send donations to the Vineland Midget Football League.