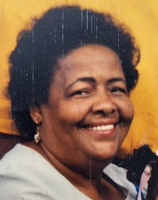 Carmen G. DeLeon
Carmen Deleon, 91, was called home by her Lord and Savior Saturday, May 6, 2023. Carmen was born December 12, 1931, in Humacao, PR to Francisco and Bernarda Rosario.
In 1952 she married her beloved husband of 60 years, Sanda Deleon. Shortly after, they moved to Vineland, NJ and started a family, being blessed with daughters Nelia and Mardy. Hardworking, Carmen was employed many years at the Jordan Clothing Union, and also owned a food truck where she fed the community with her delicious dishes. She and her husband were founding members of the Puerto Rican Social Club of Vineland and active members of the Divine Mercy Parish (formerly known as the Spanish Catholic Center) Carmen enjoyed gardening, where her green thumb was the envy of the neighborhood. She enjoyed cooking, walking, shopping, her weekly visits to the senior center and spoiling her beloved chihuahua Chico. She was a wonderful and loving wife, mother, grandmother, and great grandmother.
Carmen was predeceased by her husband, Sanda; her parents; and her brothers, Fransisco Jr, Guilliermo, Cheo, Rafael, Secundino. She is survived by her daughters, Nelia Deleon and Mardy Palmer (Ridell). Her granddaughters, Cassandra Robles (Shawn), and Gabriella Palmer; and great grandson Vincent Wilson; sisters Ramona Lopez, Eusebia Valazquez, Carmen Julia Vega, Theresa Irizarry, Margarita Cisnero, Maria(Turi) Rosario, and Carmen Lydia Rosari; brother Juan Batista Vega; and multiple nieces, nephews, cousins, family and friends. Carmen will be missed and forever loved.
Relatives and friends will be received on Thursday, May 11, 2023 from 6:00pm until 8:00pm at DeMarco-Luisi Funeral Home, 2755 S. Lincoln Avenue, Vineland. A Mass of Christian Burial will be held on Friday, May 12, 2023 at 11:00am at Divine Mercy Parish, 23 W. Chestnut Avenue, Vineland. Interment will follow in Sacred Heart Cemetery, Vineland.