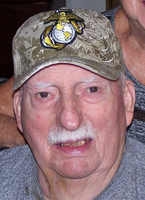 C. Edward Sutter, Sr.
C. Edward Sutter, 79, of Vineland passed away peacefully on Tuesday, August 1st at the NJ Veterans Memorial Home in Vineland surrounded by his loving family. He was born in Millville, NJ to the late Willis and Marie (Schneider) Sutter and resided in Vineland his entire life.
He was a 1956 graduate of Sacred Heart High School in Vineland. Following high school, he served in the United States Marine Corps. He owned and operated a family trucking company, Sutter Brothers Trucking, with his brother Robert for many years. He was also employed by the Vineland Produce Auction and Nardelli Brothers Produce.
He was a devoted member of Saint Padre Pio Parish in Vineland where he served as an usher for many years. He was also a longtime member of the Knights of Columbus Saint John XXIII Council 6621 and Assembly 1749. He served as Grand Knight of Council 6621 and Faithful Navigator of Assembly 1749.
He enjoyed spending time with his family, especially his grandchildren, spending winters in Florida with his wife and friends, playing golf, going to the casinos, watching sports, reading and playing poker. He was an avid Philadelphia sports fan and also a loyal fan of the Boston Red Sox.
He was pre-deceased by his parents, Willis and Marie Sutter and his brother, Donald Sutter. He is survived by his wife of 54 years, Alice (Smaniotto) Sutter and his three children; Denise Branin and her husband Dennis, Michele Sutter and Carl E. Sutter Jr. and his wife Lori. He is also survived by his four grandchildren, Eric Branin, Matthew, Megan and Allie Sutter; and his brothers, Willis J. Sutter and Robert Sutter as well as many nieces and nephews.
Family and friends will be received on Saturday at Saint Padre Pio Parish, Our Lady of Pompeii Church, 4680 Dante Ave., Vineland, NJ from 9am to 11am followed by a funeral mass at 11am. He will be laid to rest at St. Mary's Cemetery in East Vineland, NJ. Arrangements are by DeMarco-Luisi Funeral Home, 2755 S. Lincoln Ave., Vineland, NJ. In lieu of flowers, the family requests donations be made in memory of Carl Edward Sutter, Sr. to the NJ Veterans Memorial Home-Vineland, Activity Fund, 524 N.W. Boulevard, Vineland, NJ 08360 or Saint Padre Pio Parish, 4680 Dante Ave., Vineland, NJ 08361. Condolences, memories, thoughts and prayers may be extended to the family by visiting dlfuneral.com.