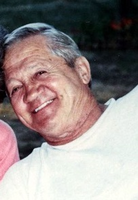 Angelo Bassano
Angelo Bassano Jr., 84 of Vineland, NJ, passed away Friday, October 20th, 2017 following a brief illness. Angelo attended Vineland High School and joined the Navy during the Korean War.
Angelo was employed by Pepsi Cola as a distributor for 27 years. He married Dorothy (Hutchings) of Millville and enjoyed 53 years together.
Angelo was an avid fisherman and enjoyed the Philadelphia sports teams, bowling and the casinos.
He leaves behind a brother, Dominic of Vineland; his children, Fred, Tony and Crissy of Delaware and Angela (Tony) of Colorado. Angelo was predeceased by his father, Angelo Sr.; mother, Minnie (Cavoli); son, Steven; daughter, Diane; brother, James of Vineland and sister, Doris (Pagano) of Florida. He also leaves behind many cousins, nephews and nieces.
Private funeral arrangements are under the direction of DeMarco – Luisi Funeral Home, 2755 S. Lincoln Ave., Vineland.