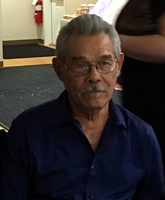 Pedro S. Nieves
Pedro Soto Nieves, 78 of Vineland passed away on Saturday, December 23, 2017.
Born in Isabela, Puerto Rico, Pedro lived in Hoboken, NJ most of his life and was a self-employed barber.
He is predeceased by his parents, Pedro and Basilisa (Velez) Nieves.
Pedro is survived by his wife, Crusita (Santiago) Nieves; daughter, Rosalie Knapp; 2 sons, Hugo Nieves and William Nieves; 8 grandchildren; 13 great grandchildren; 4 sisters and 3 brothers.
Funeral services will be held today at 4pm at DeMarco-Luisi Funeral Home 2755 S. Lincoln Ave., Vineland. Family and friends will be received today from 3pm to 4pm at the funeral home. Burial will be private.