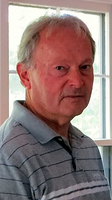 Giorgio P. Ingegneri
March 26, 2018, Giorgio Pier Ingegneri, 74, of Vineland, NJ, passed away peacefully at home, surrounded by his immediate family. Giorgio was born to the late Giovanni Ingegneri and Mari Ingegneri (Mantovani), September 15, 1943, in Adria, Italy. Giorgio is predeceased by his daughter Sheila Ingegneri; his sister, Valentina Clemente (Ingegneri); and his brother, Lodovico Ingegneri. He leaves his wife Frances Ingegneri (Simone) and as his legacy 2 children; Chris Ingegneri and Peter Ingegneri, and 1 granddaughter, Nora Catherine Ingegneri. Left to cherish his memory, 5 siblings; Gabrielle Ingegneri, Lucia Blandino (Ingegneri), Silvio Ingegneri, Giuditta Lorito (Ingegneri), and Dario Ingegneri, plus numerous nieces and nephews.
Giorgio graduated from Bridgeton High School in 1963, and then received a 2-year degree from the Electronics Training Center Pennsauken, NJ in 1965. Giorgio served in the Army National Guard of New Jersey, as a Field Radio Mechanic, from September 1965 to May 1971. In 1970 he married Frances Simone and have been married for the past 47 years. While living in Vineland him and his wife raised two children, Chris and Peter. Giorgio worked as a Tile Setter until he retired in 2018. His children will remember him as a faithful and loyal man, who always put his family first and having compassion for everyone he met. He was Loved by All and was known as a person to do 'It' his way.
He was a dedicated volunteer, manager, and coach for East Vineland Baseball and the Vineland Soccer Association from 1983 to 1995. Giorgio had the ability to make sure everyone could be the best they can be. He advocated a constructive image for everyone he met and he made everyone feel welcomed with Open Arms.
In his spare time, Giorgio enjoyed tending to his garden, growing vegetables, fruits and flowers. He also grew his own grapes and made wine out of them. He loved taking care of his yard and to make his wife happy he would decorate at least a month early for the holidays. In return, all the children and neighbors would love the lights and decorations, this would bring enjoyment to him. He loved watching sports with his family and friends, as he was an avid fan of the Philadelphia Phillies, Eagles, Flyers, 76ers, and Italian futbol. Giorgio loved animals, especially all of his dogs and cats.
Family and friends will be received on Monday evening from 6pm-8pm at the DeMarco-Luisi Funeral Home 2755 S. Lincoln Ave., Vineland and Tuesday morning from 9:30am-10:45am at Christ the Good Shepherd Parish, St. Isidore's Church, 1655 Magnolia Road, Vineland. A Funeral Liturgy will be followed at 11:00 am. Giorgio will be laid to rest at Sacred Heart Cemetery, Vineland, NJ. Donations in Giorgio Pier Ingegneri's memory may be made to the Christ the Good Shepherd Parish, St. Isidore Church 1655 Magnolia Rd. Vineland, NJ. Memories, thoughts and prayers may be extended to the family by visiting dlfuneral.com.