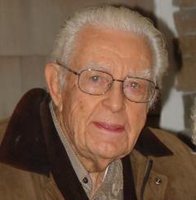 Charles A. Biddinger
Charles Allen Biddinger, Jr., age 95, passed away peacefully surrounded by family on April 22, 2018. He was born in Yonkers, N.Y. on December 2, 1922, where he lived, went to school and met and married his wife of 73 years Catherine T. (McCahill) Biddinger. He is the son of Charles A. Biddinger, Sr. and Mary Elizabeth Fitzgerald of Yonkers, NY. He served his country in the U.S Naval Air Force during World War II as an operations watch officer with the 14th Fleet Air Wing.
Charles, Catherine and their two sons, Andrew Allen Biddinger and Gregory Reed Biddinger moved to Vineland in 1953. He eventually worked his way into the marketing side of the trucking and transportation business with R.A. Bozarth Trucking and ultimately he owned and managed Gerson Transportation.
Charles always enjoyed work and being around people, so after an initial retirement from the trucking business he found a new home working with L.J. Zucca, Inc. During his working years Charles was an active member of the Vineland business community through the Exchange Club where he served as president. He spent many hours in fund raising for local charities serving as chairman for the city-wide United Way and Red Cross campaigns.
Charles's greatest love was family, especially his grandchildren Megan Biddinger and her husband Edward Cavanaugh, Erin Forster and her husband Jonathan Forster and Michael Biddinger and his great grandchildren Maddie DeLong, Stella Cavanaugh and Andie Forster.
He was also passionate about golf, gardening, reading, a good political discussion and baking on weekends with his sister Helen Chynoweth at her bakery in South Vineland.
Charles is survived by his wife Catherine; his eldest son, Drew and his wife Joanne Wade Biddinger and his son, Greg and his wife Lise Leigh. As well, he leaves behind 3 grandchildren, 3 great grandchildren and numerous nephews and nieces that will miss him dearly.
He was predeceased by his parents, Charles and Mary, and his step-mother, Elizabeth Mattice Biddinger; his sisters, Catherine Wallace, formerly of Fonda, NY and Helen Chynoweth formerly of South Vineland and his grandson, Christopher Biddinger.
Relatives and friends are invited to participate in a visitation with the family from 10:00am to 10:45am on Friday, May 11th at Christ the Good Shepherd Parish, St. Isidore the Farmer Church, 1655 Magnolia Rd. Vineland, NJ 08361, with a funeral mass to follow at 11:00am. In lieu of flowers, donations can be made to Children's Hospital of Philadelphia, 3401 Civic Center Blvd, Philadelphia, PA 19104 or St. Jude Children's Research Hospital, 501 St. Jude Place, Memphis, TN 3810. Arrangements are by DeMarco-Luisi Funeral Home, 2755 S. Lincoln Ave., Vineland, NJ. Memories, thoughts and prayers may be extended to the family by visiting dlfuneral.com.