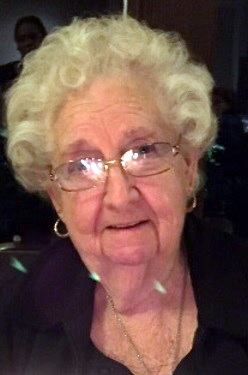 Obituary of Vera Reader
Vera Reader 93, surrendered her life to Our Lord on September 17, 2018 with all of her children at her bedside except for her youngest daughter, Mary, who with open arms was waiting for her at the gates of Heaven. Her last days were made comfortable by the presence of her children, grandchildren, and her great grandchildren at her side and by the kindness of the fourth floor nurses at Inspira Hospital in Vineland.
Born on October 22, 1924 to Harry and Margaret Steighner in the Village of Herman in Butler County, Pa. Vera enjoyed a happy childhood and a successful young adulthood. After high school she attended Cosmetology school. She answered a recruitment advertisement by Owens Illinois and came to NJ to work in the glass factory intending to save her earnings and return home to open her own beauty salon. That did not happen because she met and married her husband, Joseph Reader and remained in Vineland for the rest of her life. During her marriage she had seven children and was an at home mother for all of their childhood years. She was a devout Catholic and used those principles to raise her family and to pass her faith on to all of her children. She lived all her days with great devotion to the Blessed Virgin Mary and prayed the rosary daily.
In the early 1970's she was employed at Bishop McCarthy Convalescent Center as a dietary technician and from there went to the Vineland Children's Residential Center where she worked until her retirement.
Vera's life revolved around her family and she filled her children's lives with love and care. Although her children were many, each one personally felt her love, attention and concern.
She was an accomplished seamstress and also enjoyed crochet and crewel embroidery. She was rivaled by none when it came to baking, creating the most delectable cakes, pies and pastries.
Vera was predeceased by her husband Joseph; her daughter, Mary Grimaldi; sons-in-law, Wayne, Danny, Bruno, and Chucki; her parents, Harry and Margaret Steighner; brothers, Harry, Gerald, Gilbert and Louis.
She is deeply mourned and will be sadly missed by her children, Linda (Victor) Terenik, Juanita Girimonte, Sharon (David) Bertino, Joseph (Janis) Reader, Vera Giglio, and Earl Reader. She will be sadly missed by all of her fourteen grandchildren their spouses, and her twelve great-grandchildren.
Family and friends will be received on Sunday from 5pm to 8pm at DeMarco-Luisi Funeral Home, 2755 S. Lincoln Ave., Vineland and again on Monday morning from 9am to 10:45am at Divine Mercy Parish, St. Francis of Assisi Church, 23 W. Chestnut Ave., Vineland with a Funeral Liturgy to follow at 11am. Vera will be entombed at Sacred Heart Cemetery, Vineland. Memories, thoughts and prayers may be extended to the family by visiting dlfuneral.com.