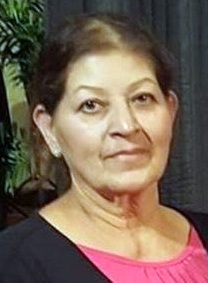 Obituary of Blanca Juarez
Blanca Juarez DeJesus, 63, of Bridgeton, formerly of Quezaltepeque, La Libertad, El Salvador, passed away on Friday, September 28, 2018 at Inspira Medical Center, Vineland.
Blanca enjoyed spending time with family, sewing, knitting, cooking and hosting parties for family. She worked as a cook for Las Hermanas Restaurant, Downtown Deli, for 11 years. Blanca was a kind, loving, giving warm hearted and hospitable person.
She is predeceased by her mother, Angela Juarez Zepeda; her father, Pedro Rivas Guardado; and her first husband; Gustavo Figueroa.
She will be sadly missed by her husband; Ovel Santiago, her children; Rosa E. Figueroa, Oscar Salvador Figueroa, Alba Lorena Figueroa, Ever Arnulfo Figueroa, and Ivan Negrete; 6 sisters; 4 brothers; 19 grandchildren, 10 great grandchildren, and 8 great great grandchildren and several nieces and nephews.
Family and friends will be received on Tuesday, Oct. 2, 2018 at 6pm at the Iglesia Hispana Pentecostal Asambleas de Dios, 512 S. Third St. Vineland, NJ 08360. On Wednesday at 10am family and friends will meet at the church to follow the funeral procession over to Siloam Cemetery for a graveside service. Arrangements are by DeMarco-Luisi Funeral Home 2755 S. Lincoln Ave., Vineland, NJ.