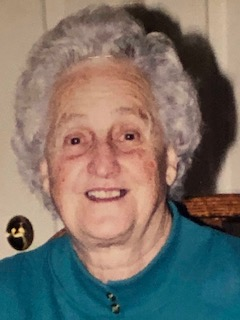 Obituary of Rosalie Bergamo
Rosalie Bergamo (nee Formento), 95, passed away peacefully at her home on Tuesday, June 4, 2019. Rosalie will be sadly missed by her sons, Tom (Joan) Bergamo, John (Elizabeth) Bergamo, and Phil (Beth) Bergamo; 7 grandchildren, and 6 great grandchildren. She is also survived by her sister, Gloria Mlynarski, as well as many nieces and nephews.
She was predeceased by her husband, Felix; sister, Minnie Toffenetti; brothers, Elmo, Anthony, and John Formento.
Rosalie was born in West Frankfort, Illinois and moved to Vineland at the age of 6 with her parents, John and Emma (Maruzzi) Formento. She graduated Vineland High School in 1942 and worked beside her husband on the family farm along with her sons for many years.
Rosalie loved cooking, baking and spending time with family and friends. She was an avid reader and crossword puzzle enthusiast. She was a member of Christ the Good Shepherd Parish.
She will be remembered for her kind, compassionate heart and devotion to her family.
Family and friends will be received at Christ the Good Shepherd Parish, St. Isidore's Church, 1655 Magnolia Road, Vineland on Monday, June 10th from 9am to 10:45am. A Funeral Liturgy will begin at 11:00 am at the church. Rosalie will be laid to rest at Sacred Heart Cemetery, Vineland. In lieu of flowers, donations may be made to Bayada Hospice, 603 North Broad Street, Woodbury, NJ 08096 or Christ the Good Shepard Parish. Memories, thoughts and prayers may be extended to the family by visiting dlfuneral.com.