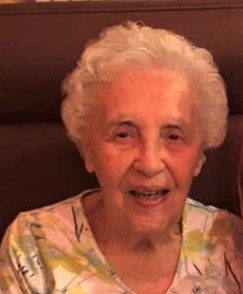 Obituary of Grace B. Scavelli
Grace (Beninati) Scavelli, 97, passed away peacefully on June 16, 2019 in Piney Hollow, New Jersey. Grace was born in Brooklyn, New York, on August 9, 1921, to Frank and Cologera (Taormina) Beninati.
She lived an adventurous childhood on rural Long Island, which she often spoke of fondly. She graduated from Westbury High School in 1939 and from Columbia University in 1943. She married Frank M. Scavelli on June 25, 1950, in Westbury, Long Island. Shortly after, they moved to Piney Hollow, New Jersey.
Grace was a beloved elementary school teacher and made a lasting impression on her students. Years after she retired, her former students would come up to her and say, "Mrs. Scavelli, I'll never forget you."
She loved to read and could talk about classic literature as easily as the newest bestseller. She kept up with politics and the news, and she stayed as sharp as any of her seven grandchildren. She was an accomplished artist and loved to paint the coast of Maine or the woods of Vermont.
She cared deeply about her family. She stayed close to her brother and sisters, Josephine, Joseph, and Angela, and missed them profoundly. She was a true partner to her late husband Frank. They both enjoyed the simple things in life, like sitting in their yard and listening to the birds sing on a summer evening. Grace loved the vegetables from Frank's garden and cooked, canned, and froze every one. When they received the call that their first grandchild, a daughter, was born in Vermont, Grace jumped in the car and drove eight hours on a moment's notice to see her. She was always available to give all her children and grandchildren advice. She made her mark on Piney Hollow, but she also had half of her heart in Italy. She spoke Italian, and there was little she loved more than a good pasta dinner, especially when shared with family.
For much of the last eighteen years of her life, Grace lived in and continued to enjoy the family home with her youngest son, his wife, and their children. The house was filled with the smell of Italian cooking and with her books. She helped with homework, and for two years she became a teacher again to homeschool her two grandchildren.
She lived nearly a century and through some of the most exciting, fraught, and challenging times. On an early morning in May 1927, her father took her to Roosevelt Field in Long Island and she saw Charles Lindbergh take off in the Spirit of St. Louis. She lived through the Great Depression and World War II. Grace's stories brought her world to life to anyone who listened, especially her grandchildren, who will pass those stories down to her great-grandchildren. Grace saw the world change in so many ways, and she not only kept up with the times, she embraced the change.
Grace lived a full life in every sense, and her wit and humor stayed with her through her final days. She will be deeply missed. Grace requested a private service with her immediate family. The family wishes to thank all of those who cared for her during her last days.
Grace is survived by her four children, Louis Scavelli, Charlotte Deon (Tony), Frances Scavelli, Frank B. Scavelli (Debra Basolis); seven grandchildren, Tara Oremland (Jeremy), Sara Deon (Kao-Ping Chua), Jane Deon, Malin Deon, Christopher Laferty, Frank M. Scavelli, and Shana Scavelli; and two great granddaughters, Addy and Rosie Chua.
Donations in Grace's memory can be made to two institutions which she held dear. Donations to St Jude Children's Research Hospital can be made at stjude.org/give or mailed to 501 St Jude Place, Memphis TN 38105. Donations to Heartland Hospice Memorial Fund can be made at heartlandhospicefund.org/donate (please select the Northfield, NJ location) or mailed to 2111 New Road, Northfield NJ 08225. Arrangements are by DeMarco-Luisi Funeral Home 2755 S. Lincoln Ave., Vineland.