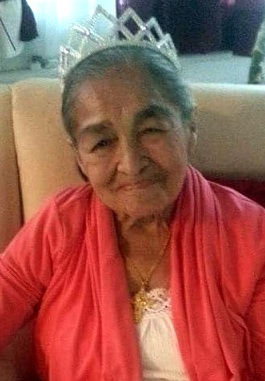 Obituary of Onelia Bordoy
Onelia Bordoy, 90 of Vineland, passed away on Friday, June 21, 2019 at Bishop McCarthy Residence, Vineland.
Born in Utuado, Puerto Rico, she worked as a sewing machine operator making military uniforms.
She enjoyed sewing, cooking, taking care of her house plants and the outdoors. But most of all she enjoyed spending time with her children and grandchildren. She was a member of All the Nations Assembly of God Church, Rosenhayn.
She honored her parents and was the best mother and grandmother.
She is predeceased by her husband, Armando Bordoy and 3 daughters, Irma, Arcilia and Margarita Bordoy and 2 grandchildren.
Onelia is survived by 4 children, Tomas Bordoy, Laida Spicer, Norma Acosta and William Borday; 18 grandchildren, 35 great grandchildren and 8 great-great grandchildren; 2 sisters, Teresa and Helen; 2 brothers, Jose and Ismael and her niece/goddaughter, Zoraida.
Family and friends will be received on Friday from 9am to 10am, followed by a funeral service from 10am to 12pm at All the Nations Assembly of God Church, 660 Landis Ave., Rosenhayn. Onelia will be laid to rest at Greenwood Memorial Park, Millville. Arrangements are by DeMarco-Luisi Funeral Home 2755 S. Lincoln Ave., Vineland. Condolences may be sent to dlfuneral.com.