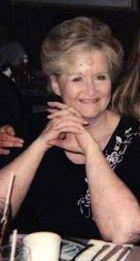 Obituary of Lynda Feaster
Lynda Feaster, 74, of Vineland passed away on Thursday, July 27, 2017 at
Cooper Hospital/University Medical Center.
Born in Vineland, Lynda was a lifelong resident and graduate of Vineland High
School, Class of 1961. She was employed at Food Fair for over 17 years and
later on at Action Phone Answering Service on Sixth St., in Vineland for 15
years. Lynda also worked as a cab driver for Red and Black Cab and as a
dispatcher for 6 years at the Vineland Bus Terminal.
She enjoyed traveling with her husband, watching her grandchildren and
shopping.
Lynda was predeceased by her parents, Francis and Hazel (Gilbert) Albrecht;
her brother, Robert Albrecht and sister-in-law, Christine Albrecht, and
brother-in-law, Bill Eckbold.
She is survived by her husband, Trueman Feaster of Vineland; two daughters,
Leititia "Tish" Feaster and companion Sam Gonzalez of Vineland and Amy
Rivera (Eliud) of Vineland; three grandchildren, Brooklyn and Braelin Rivera
and Brianna Gonzalez; Great grandchild, David Negron of Vineland; one sister,
Evelyn (Sharnick) Eckbold; and many nieces and nephews.
A funeral service will be held on Wednesday at 11am at the DeMarco-Luisi
Funeral Home 2755 S. Lincoln Ave., Vineland. Lynda will be laid to rest at
Laurel Lawn Cemetery, Bridgeton. Relatives and friends will be received on
Tuesday from 6-8pm and again on Wednesday from 10-11am. In lieu of
flowers donations may be made to the Alzheimer's Association, Delaware
Valley Chapter 399 Market Street, Suite 102, Philadelphia, PA 19106.